When the Virginia Film Festival held a conference at the Paramount Theater this afternoon to unveil a new permanent logo, Executive Director Jody Kielbasa also announced this year's Film Festival Fellow: the director and film historian Peter Bogdanovich, whose The Last Picture Show, Mask and Paper Moon established him as a superliterate legend of the form.
…and a legend of the neck scarf. More below.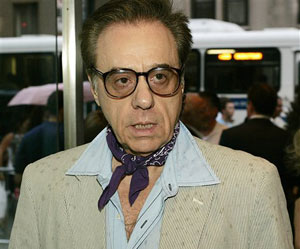 It's also a display of the festival changing directions under Kielbasa. Fellows from past years include Maria DiBattista, a feminist literature scholar who teaches at Princeton University, and Hamid Naficy, a Northwestern University expert on media in the Middle East. As an Oscar nominee who has also written histories of Alfred Hitchcock, Orson Welles and Howard Hawkes, Bogdanovich has credentials and marquee appeal.
The Virginia Film Festival comes to town November 4-7. Kielbasa says that the next round of unveilings will happen October 5.